BYRNE TOPS MODS, FELLOWS STAYS UNBEATEN JULY 25 AT MONADNOCK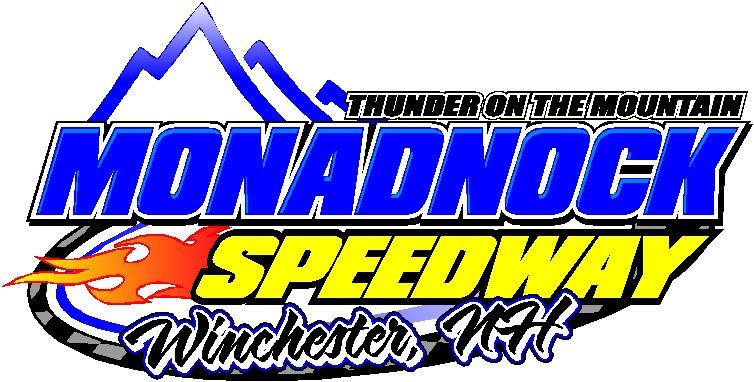 By Gary Dutton
WINCHESTER, N.H. – Modified ace Ben Byrne earned his second victory lap of the summer Saturday, July 25, topping the 40-lap main event on the high banks of Monadnock Speedway.
Aaron Fellows stayed undefeated this season, winning a thriller in the Late Model Sportsmen, while the Curtis twins, Chase and Jaret, finished one-two in the Street Stocks to increase their standings atop the points parade.
Gordon Farnum topped the Mini Stocks for the third time this summer, and Pure Stock kingpin Chris Davis put a string of recent misfortunes behind him, romping to victory Friday. Short track legend Randy Cabral won the 30-lap NEMA Midget feature, with Avery Stohr victorious in the NEMA Lites.
Defending Sportsman Modified champion Todd Patnode and Keith Carzello led the 18-car NHSTRA field to the green, with Patnode – fresh off nightmare outings in each of the previous two weeks – set on reversing his fortunes.
To that end, the Swanzey hot shoe set a torrid pace for the first 13 go-rounds. Brian Chapin took the lead on lap 14 and, the next time around, Patnode pitted under green, moving Byrne up to second, with points leader and previous week's winner Brian Robie in close tow.
Byrne was relentless over the next 18 circuits, finally taking the lead from the top lane on lap 32, with Chapin then bobbling on a restart to move Robie up to second, from where he would add to his points lead, earning valuable breathing room ahead of Trevor Bleau, who finished 15th on the night.
A week earlier, Aaron Fellows kept his undefeated season intact by passing Cole Littlewood with only two laps to go en route to Late Model Sportsman victory lane. Friday, he again passed Littlewood late in the game, this time on turn three of the final lap to add more luster to his unblemished record.
Littlewood, third a week earlier, held on for second Friday, with Robert Hagar coming home third. Willie Kuhn and Justin Littlewood completed the top five.
Hillary Renaud, gunning for two in a row in the sizzling Streets, led the first 14 circuits of her 25-lapper but then blinked, quickly finding herself back in forth as the flying Curtis twins, Chase and Jaret, stormed past, bringing Tommy O'Sullivan with them.
It was Chase Curtis first under the checkers, with his points-leading sibling Jaret riding in his shadow. Renaud's fourth-place run moved her up to fifth in points. Friday's victory was Chase Curtis'second of the summer, with both his father Chris and brother Jaret also having topped Street Stock features.
It took Gordon Farnum eight laps to come from row three to the point in the Mini Stock feature but, once there, he checked out on the field to score his third win of the summer. Kevin Clayton, strong all night, came home second, just ahead of Mark Panaroni.
Pure Stock powerhouse Chris Davis shook the late-race bugaboos that had plagued him in recent weeks Friday, taking control on lap two and then checking out. While Davis made it look easy, a tight battle raged behind him, with Mike Douglas emerging strong to cop the runner-up honors, just in front of Claremont regular Dylan Adams, who made his high-banks debut successful in third.
In the night's Iron Mike Memorial NEMA Midget main event, open-wheel legend Randy Cabral did what he's done at least once over the last 20 years. Cabral blasted to victory in the caution-free 30-lapper, taking the checkers ahead of Todd Bertrand and early-race leader Paul Scally. Avery Stohr topped the Lites 30-lapper.
Next Saturday, August 1, the Granite State Pro Stock Series will return to the Winchester high banks, where they'll battle in a 100-lap main event. For more information, please visit www.monadnockspeedway.com.
MONADNOCK SPEEDWAY JULY 25 TOP TENS:
SPORTSMAN MODIFIED: Ben Byrne, Brian Robie, Brian Chapin, Keith Carzello, Russ Hersey, Solomon Brow, Cory Plummer, Cameron Houle, Andy Major, Jerry Gomarlo.
PURE STOCK: Chris Davis, Mike Douglas, Dylan Adams, Brandon Lavoie, Nick Houle, Doug Nelson, Cory Lofland, J.D. Stockwell, Reagan Buffum, Jimmy Zellman.
MINI STOCK: Gordon Farnum, Kevin Clayton, Mark Panaroni, Nathan Wenzel, Bill Chaffee, Kevin McKnight, Jake Puchalski, Jared Roy, Jeff Asselin.
STREET STOCK: Chase Curtis, Jaret Curtis, Tommy O'Sullivan, Hillary Renaud, Mike Hopkins, Chris Buffone, Mike Radzuik, Kyle Gero, Paul Barnard, Tim Wenzel.
LATE MODEL SPORTSMAN: Aaron Fellows, Cole Littlewood, Robert Hagar, Willie Kuhn, Justin Littlewood, Ron Laperche, James Beck, Nancy Muni Ruot, Billy McCarthy, Camdyn Curtis.
NEMA MIDGETS (Top 3): Randy Cabral, Todd Bertrand, Paul Scally.NEMA LITES (Top 3): Avery Stohr, Ryan Locke, P.J. Stergios.