PATNODE TOPS MODIFIED THRILLER, FELLOWS WINS ELEVENTH
By Gary Dutton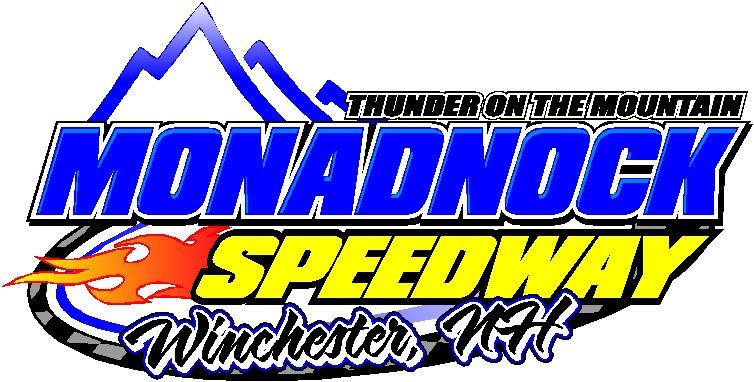 WINCHESTER, N.H. – Todd Patnode (Swanzey, NH) made a late-race pass to earn his third NHSTRA Modified feature of the year Saturday (September 12) at Monadnock Speedway.
The high-banked speedplant completed its 13th event of the season Saturday, and when all was said and done, one driver had taken her first victory lap of the year, Aaron Fellows (Croydon, NH) had stormed to his track-high eleventh feature win, and the sizzling Curtis twins, Jaret and Chase, were again tied atop the Street Stock title race.
The Six Shooter division made its maiden Monadnock run Saturday, with southern-staters Brandon Mailhot (Epping, NH) and Adam Knowles first and second under the flags, and Granite State Mini Cup ace Skeeter Beerce was dominant in both his heat and feature races.
Kevin Pittsinger and Trevor Bleau led the Mod Squad to the green in the night's 40-lap main event, with Bleau – up in smoke a week earlier – jumping all over the opening lead. Scott MacMichael and Cameron Houle chased Bleau to the front, but Patnode, from row four, was on the move early.
Patnode got up for third on lap ten, took second on the 25th circuit, and had soon reeled Bleau in. And, while almost everyone's eyes were glued on the front pair, rookie Cory Plummer – from row six – was having a career night just behind them.
Using the inside groove, Patnode inched ahead as lap 34 was completed. Bleau stayed glued to his bumper the final six laps, matching his season-best finish of opening night in second. Plummer's huge run netted him third, Ben Byrne came home fourth, and track points leader – third in national points too – Brian Robie was fifth.
Jaret Curtis (Rutland, NH) took the lead from Tim Wenzel on lap 13 of the Street Stock feature and never looked back. Chris Buffone used a rub to take second on lap 17 but could advance no further, earning runner-up honors with Chase Curtis glued to his bumper in third. It was Jaret Curtis' third win of the season.
Aaron Fellows passed Justin Littlewood for the lead on lap nine of the Late Model Sportsman feature, shrugged off a late-race tap from runner-up Adam Gray, and stormed off to his eleventh win, against one runner-up finish, this season. Gray was second, and Robert Hagar third
Kevin Cormier (Agawam, Ma) took the lead from Kevin Russell on lap 14 of the Mini Stock main event, then holding strong to earn his second 2020 victory lap. Clayton finished his impressive night's work in second, with veteran hot shoe Pat Houle coming from row six to post his season-best finish in third.
Top points man Gordon Farnum was fourth in Saturday's Minis, and now leads the championship points chase by 24 markers over Granby, Mass. hot shoe Nathan Wenzel.
Jason Leray set a fast pace the first six laps of the Pure Stock feature but bobbled on a restart and was quickly shuffled backward. Points leader Mike Douglas took charge on lap nine but was soon gobbled up by Erin Aiken (Claremont, NH), who then socially distanced herself from the field to score her first win this season, accomplishing the feat aboard the same car her husband, Dave, had driven to victory twice earlier in the season.
Brandon Mailhot started up front and led all the way to win the first-ever Six Shooter feature on the high banks. Adam Knowles was second, and Claremont racer Paul Colburn strong in third.
With only two weeks remaining in the 2020 racing season, fans will have another opportunity to enjoy an early-fall night of exciting outdoor entertainment when Monadnock Speedway hosts a full card of oval track racing this Saturday, September 19, on the storied quarter-mile.
For more information, please visit www.monadnockspeedway.com.
MONADNOCK SPEEDWAY SEPTEMBER 12 RESULTS:
NHSTRA Modifieds: Todd Patnode, Trevor Bleau, Cory Plummer, Ben Byrne, Brian Robie, Russ Hersey, Matt Kimball, Scott MacMichael, Kim Rivet, Solomon Brow, Brian Chapin, Jason Houle, Stewart McCormack, Cameron Houle, Eric Leclair, Brad Zahensky, Kevin Pittsinger
Street Stocks: Jaret Curtis, Chris Buffone, Chase Curtis, Tim Wenzel, Hillary Renaud, Kenny Thompson, Robbie Streeter, Paul Barnard, Bryan Granger, Ed Brehio, Craig Chaffee
Late Model Sportsman: Aaron Fellows, Adam Gray, Robert Hagar, Cole Littlewood, Will Kuhn, Camdyn Curtis, John Meany, Scott Beck, Dan Comeau, Nancy Muni-Ruot, Justin Littlewood
Six Shooters: Brandon Mailhot, Adam Knowles, Paul Colburn, Jeremy Blood, David Piper, Travis Hollins, Chris Hadley, John Voorhees, Ben Bushey, Todd Maguire, Ray Luce, Chooch Snide, Chris Colburn, Brian Stefano, Scott Wade, Dakota Lanou
Mini Stocks: Kevin Cormier, Kevin Clayton, Pat Houle, Gordon Farnum, Tim Leblanc, Nathan Wenzel, William Chaffee, Shelby Avery, Jeff Asselin, Jeff Heath, Louis Maher II, Kyle Poodiack, Jake Puchalski, Kevin Russell, Kevin McKnightPure Stocks (unofficial): Erin Aiken, Jimmy Zellman, Mike Douglas, Chris Davis, Damon Roy, ,Matt Lambert, Nolan McClay, Doug Nelson, JD Stockwell, Nick Houle, Randy Phillips, Brandon Lavoie, Cory Lofland, Jason Leray, Bruce Clark, Ryan Lawliss