Cam McDermott Balancing Variety of Roles in Search of Success with Tri Track in 2021
By Souza Media/Kyle Souza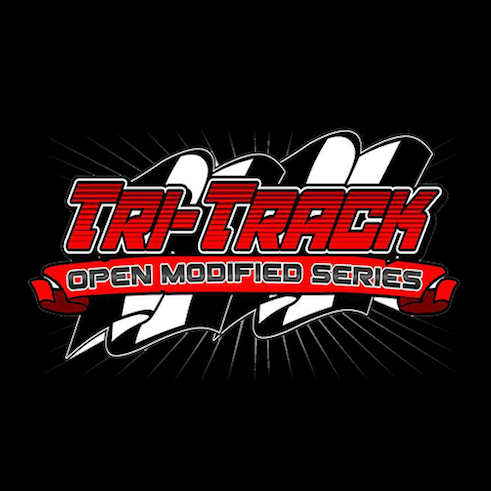 SEEKONK, Mass. — Whether it's been as a crew chief, spotter, driver, mechanic or in another role, Cam McDermott has built quite the resume in short-track racing. He started his career driving in quarter midgets, quickly moved to the Thompson Speedway Modified division, where he won the championship — and from there, his career has blossomed in a variety of different directions.
For 2021, McDermott is going to be quite the busy guy once again — but his preparations for the season includes getting the No. 8 Maybury Material Handling machine ready for competition in the six Tri Track Open Modified Series events. McDermott will be behind the wheel of the family-owned machine to join a talent-filled group of competitors on the Tri Track circuit.
"We're mainly going to focus on the Tri Track stuff this year, transitioning into that after focusing on the Stafford Motor Speedway Open Modified races the last few years," McDermott said. "The competition with Tri Track is always great. I want to go out there and compete against the best — I love doing that. On the ownership side of Tri Track, with what Wayne (Darling) and Ed (Bennett) are doing, it's good for the racers and the teams."
Outside of driving, McDermott will be working as crew chief for Eddie Harvey Racing on the NASCAR Whelen Modified Tour, with his close friend Woody Pitkat, driving. McDermott is ready to tackle that role after more than a decade working with the legendary Pasteryak family, where he recently was the crew chief for Chris Pasteryak. Back when McDermott was winning races and a championship in the Thompson Modifieds, McDermott was connected with the Pasteryak family, started helping Carl on his car, and from there, became a major part of the operation. During the last decade, he says he completed just about every job there is on a Modified race team, minus maybe being the jackman or gasman on a pit stop. He also has experience working with Woody Pitkat in Pitkat's championship run at Stafford Motor Speedway, and when Pitkat was competing for Buzz Chew Racing on the NASCAR Whelen Modified Tour as a spotter.
McDermott's driving experience also includes competing in the Lite Modified division at Thompson, where he was the champion, and at Stafford Motor Speedway, where he competed in the SK Light Modifieds and their premier SK Modified division.
And that's just scratching the surface of his resume.
"It just grew from the Thompson Modified days and it got better and better," McDermott said of his relationship with the Pasteryak family. "They are just a great family to be around. Between the Pasteryak family and my dad, I've learned everything I know about racing from them. The Pasteryak's pay attention to every single detail. It's such a great atmosphere to be able to learn from them and now transition it into my own car. I've been able to take everything I've learned and just put it into what's best for me."
With experience with the Pasteryak family, and now some offseason time with Harvey preparing for the new season, McDermott feels 2021 might be his best ever behind the wheel. His driving resume speaks for itself, with multiple wins and championships, but he's lacking something he's trying hard to get: a win in a Tour-Type Modified. He hopes to end that drought with Tri Track this year.
"It was definitely a learning curve jumping from the SK Modified to the Tour-Type Modified, I think the Tour-Type Modified really suits my style a lot better than the SK does," McDermott said. "I'm not nearly as aggressive as everyone else to be dominant in the SK. Paying it out of your own pocket, it makes you definitely consider everything. As a family-owned team with my parents, in-laws, and a few close friends and good sponsors helping us out, and all the experience I have in a variety of different roles, it should be a good year."
As most others, his goal is to come home with the car in one piece, have a solid run, and continue to build a notebook in hopes of visiting Victory Lane with Tri Track. But he knows the level of talent the Tri Track field will offer in 2021 — ranging from former series champions to Whelen Modified Tour champions, race winners, rising stars and more, will be tough to compete with. His immediate goal is going to be to qualify for the races, then worry about the rest once the green flag drops.
"I have a lot of experience coming from many different directions. I wouldn't say that I know everything — no one does in racing," McDermott said. "There's always a learning curve for everyone with new stuff coming out, new technology… but driving-wise I feel like I'm almost there. A good year for me would be to make all of the races, first. There is so much competition, and just qualifying is going to be difficult. If we can get into the races, then get some top-fives, I feel like that would be good. If you can get to the top-five, you can compete for wins."
Tri Track will visit three of New England's historic race tracks — Monadnock Speedway, Seekonk Speedway and Star Speedway during the season — and McDermott does have limited experience with all of them, driving previously in Tri Track races, where he does have top-10 finishes.
"I've run all three tracks before and I like Star a lot, we always seem to be really competitive there," McDermott said. "We ran Seekonk at the Haunted Hundred in 2019 and we were competitive until the last lap, when we went through the infield in the middle of chaos in front of us. I like both of those tracks a lot. I still haven't gotten my hands around Monadnock yet. The one time we went there we were fast, but broke a trailing-arm bracket, so we don't really know how that day would have ended. My dad grew up at Seekonk — he ran Street Stocks there and I grew up in the grandstands there. I'm looking forward to running there again."
Without his parents, in-laws, a few close friends and sponsors like Maybury Material Handling, Douglas Battery, Richard Green Insurance and McDermott Motorsports Services, McDermott wouldn't be in the position he is now. The support from his wife — Lauren — who raced previously herself, has been a major player in his career. He's hoping to balance his past experience with his current roles and help himself grow as a driver en route to victory lane in 2021.
"We're going to enjoy it," McDermott said. "I was with the Pasteryak's for all of the years and still ran my own team at the same time, so I think we will be good. I think you learn a lot about the cars and that helps you understand everything a lot better when you're in a variety of roles like I have been in. I come from an engineering background and I think if you understand everything, the more you do the better you will be at everything."
"Just being able to get the opportunity to do what I do now is because of all of the people that have supported me in my career. Everyone is always pushing me to be better. All of my experiences have been great and I look to continue on with it this year."
Registration for the 2021 Tri Track season is open, and teams can register at TriTrackModifieds.com/team-info. Teams have the option to either sign-up for the whole season or just one single race.
For more information on the Tri Track Open Modified Series, visit TriTrackModifieds.com and follow the series on social media. For more information Souza Media, visit kylesouza.com and follow Souza Media on Facebook