McKENNEDY ROCKS SUPERS; LEARY DOUBLES UP IN MONADNOCK MODS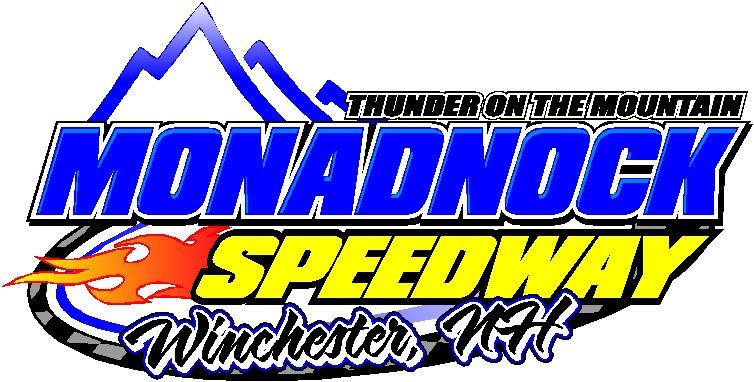 By Gary Dutton
WINCHESTER, N.H. – There's a new sheriff in town at Monadnock Speedway. His name is Tyler Leary, and he's rounding up Modified feature wins.
Winless for his career only eight days earlier, the Hatfield, Mass. pilot set fast time in qualifying Friday at the high-banked speedplant and then roared to his second NHSTRA Modified feature win in a row. Friday's victory, like the one a week earlier, was scored over some real thoroughbreds.
The ISMA Super Modifieds – 800-plus big block horsepower rocketing a 1,850-pound missile – were in town Saturday, making their first Monadnock run in more than two years, with open-wheel super star Jon McKennedy dominating to win the All State Materials Group 75 lap main event.
Young Gun Fast Eddie Petruskevicius stayed red hot in the beginner class, Mini Stock master Gordon Farnum cruised to his fifth victory of the summer, Justin Littlewood blasted to his second in the Late Model Sportsmen, and Jimmy Zellman won his first of the season in the Pure Stocks Saturday.
Moe Lilje led the first two go-rounds of the ISMA biggie, then giving way to Ben Seitz but staying in the top three the rest of the way. The first of two cautions waved on lap 29, this one as the leading Seitz tangled with a lapper in turn two.
That moved McKennedy to the point and, at that point, the race's outcome was effectively decided. Anthony Nocella held the deuce the rest of the way, with Lilje strong in third. Nobody, though, had an answer for McKennedy's dominance. He had earlier set fast time with a blistering lap of 11.181 seconds, just shy of his 2018 Monadnock best of 11.138.
And, while Leary didn't turn any 11-second laps, he did set fast time in the NHSTRA Mods to earn the pole, and then outran Trevor Bleau all 40 caution-free laps in the Mod Squad feature. Todd Patnode was strong in third, pulling within six markers of points parade leader Matt Kimball.
Justin Littlewood started alongside his brother Cole in the LMS feature, took the lead from him on lap four and then held Austin Brehio in his back pocket the rest of the way to score his second win of the summer.
And while there was a war being waged behind him, Brehio's strong runner-up effort – his fifth podium outing in a row – allowed him to finish the night atop the points parade, two scant markers better than Cam Curtis, third in the night's 25-lapper.
Gordon Farnum stormed to his fifth Mini Stock win of the season. Charging from row four, the Fitzwilliam Flyer took the lead from Kevin Clayton on lap 16 and drove off to take the checkers eight lengths ahead of Louie Maher.
Maher, the winner a week earlier, was strong in second on Saturday, joining Farnum and third-place finisher Ray King in trophy row. A pair of Kevins, Cormier and Clayton, rounded out the top five.
Jimmy Zellman took the lead from Cory Lofland on lap 11 of the Pure Stock feature and then sped off to score his first win of the summer in Saturday's nightcap 25-lapper. JD Stockwell was second, with Lofland third,
Top points man Chris Davis came home fifth, ending the night a dozen markers ahead of Stockwell.
Fast Eddie Petruskevicius again worked his magic in the Young Guns 15-lapper, winning for the sixth week in a row. This time, though, Teagan Edson – greatly improving every week – kept him within shooting distance as she took the checkers second. Leilei Daniels came home third.
Next Saturday, July 3, Monadnock Speedway will host its huge annual Firecracker Night event, featuring a 100-lap NHSTRA Modified main event, a spectacular aerial fireworks display, the Pro Truck Series, and a full card of NASCAR Advance Auto Parts Weekly Racing Series competition. Post time is 5 p.m.
MONADNOCK SPEEDWAY JUNE 26 TOP TENS
NHSTRA MODIFIED 40-LAP: Tyler Leary, Trevor Bleau, Todd Patnode, Matt Kimball, Bill Kimball, Cory Plummer, Kimmy Rivet, Dave Salzarulo, Eric LeClair, Scott MacMichael.
ISMA SUPER MODIFIED 75-LAP: Jon McKennedy, Anthony Nocella, Moe Lilje, Mike Ordway Jr., Kyle Edwards, Otto Sitterly, Dan Bowes, Ryan Locke, Eric Lewis, Ben Seitz.
LATE MODEL SPORTSMAN: Justin Littlewood, Austin Brehio, Cam Curtis, Chase Curtis, Ricky Bly, Adam Gray, Cole Littlewood, Jaret Curtis, Kevin Vaudrien, Dan Comeau.
MINI STOCK: Gordon Farnum, Louie Maher, Ray King, Kevin Cormier, Kevin Clayton, Jack Puchalski, Kevin McKnight, Jeff Heath, Patrick Houle, Josh Wright.
PURE STOCK: Jimmy Zellman, JD Stockwell, Cory Lofland, Jake Bosse, Chris Davis, Jason LeRay, Brianna Patnode, Ryan Lawliss, Damien Houle, Nick Houle.YOUNG GUNS: Eddie Petruskevicius, Teagan Edson, Leilei Daniels, Eddie Gomarlo, Dominick Stafford.
Photos Courtesy of Emily Miller
Jon McKennedy (ISMA Winner)Justin Littlewood (Late Model Sportsman – Orange, MA)