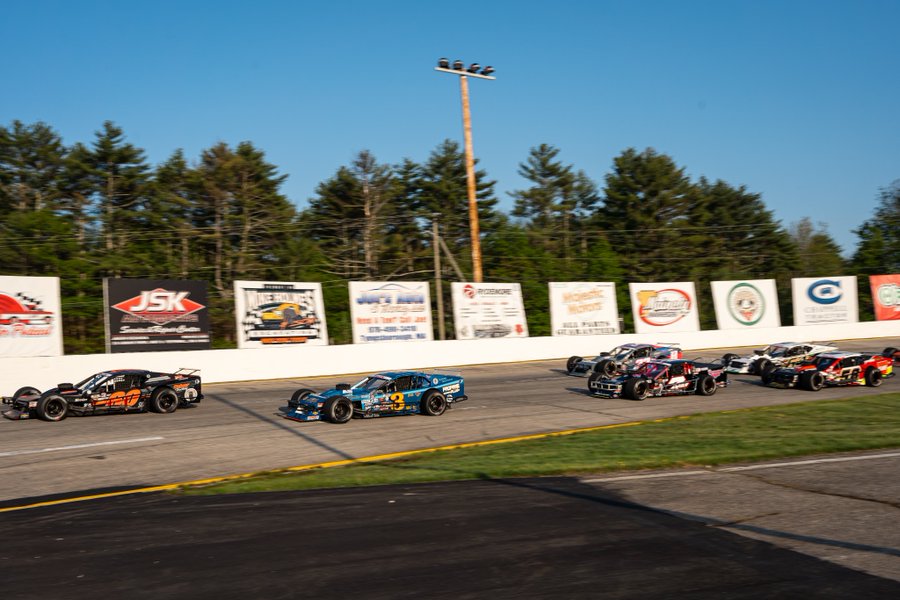 Race Advance by Jeff Brown, for JDV Productions
One of the most challenging and fastest short tracks in New Hampshire looms large on the NASCAR Whelen Modified Tour schedule this Memorial Day weekend.
NASCAR's oldest and only open-wheel division returns to Lee USA Speedway on Saturday, May 27 for the second running of the Granite State Derby, taking center stage on an action-packed afternoon to jump-start the holiday weekend.
Only a short drive from the beaches and boardwalks along the Atlantic Ocean, Lee is the longest and fastest of New Hampshire's seven paved bullrings. Speed at Lee, though, comes with a cost. The track's aged and abrasive asphalt punishes tires, and the fastest driver at the checkered flag will be the one who manages their equipment best to outlast the field during 175 laps. The strategy will also come into play, as teams will have two opportunities to visit pit road for fresh Hoosier racing rubber.
Last year's visit to "New Hampshire's Center Of Speed" was the Tour's first race at the track since 1998, giving most teams an empty notebook and a fresh slate from which to prepare. Doug Coby took advantage of the level playing field and raced to his second straight win in a relief role for car owner Tommy Baldwin.
The defending race winner returns to Lee this year as Baldwin's full-time driver, with a win earlier this month in the Duel at the Dog 200 at Monadnock Speedway. A six-time NWMT champion, Coby sits fourth in Tour points but leads the Whelen Granite State Short Track Cup after his Monadnock victory. The $5,000 bonus for the three-race miniseries would be icing on the cake for Baldwin and team as Coby chases his seventh NASCAR championship.
Defending NWMT champion Jon McKennedy, a local star with plenty of laps around Lee, and reigning Whelen Granite State Short Track Cup winner Matt Hirschman finished second and third last year. Both veteran drivers are still looking for their first Tour wins of 2023. Three-time Tour champ Justin Bonsignore, Ron Silk and Austin Beers already have wins this season and would love to add a Lee trophy to their mantels.
Woody Pitkat, Matthew Kimball, and last year's polesitter Jake Johnson are just a handful of the other Tour stars looking for a stout run at Lee on Saturday.
In addition to the Whelen Granite State Short Track Cup championship, a multitude of other contingency awards are in place in conjunction with JDV Productions to reward teams for their support of Modified racing in a purse totalling over $85,000.
The NASCAR Whelen Modified Tour's seventh appearance at Lee caps off a busy afternoon of seven feature races sure to keep fans on the edge of their seats. The New England Dwarf Car Series, New England Pro 4 Modifieds and the Northeastern Midget Association's NEMA Lites all accompanied the Tour at Monadnock and will join the JDV show once again at Lee, treating fans to three of the region's long-tenured touring programs. Lee's NHSTRA Late Models provide a hint of local color, along with an 80-lap Pro Stock feature. Rounding out the day's racing is a special feature for 350 Supermodifieds. The winged speedsters, a fixture at nearby Star Speedway, return to Lee after a few years away.
Fans are welcome once again to take part in the JDV Experience, an all-access adventure that includes a behind-the-scenes view of the race weekend and exclusive seating and autograph opportunities.
With seven feature races through the evening and one of the year's best strategic battles likely to unfold, Lee USA Speedway is the place to be this Memorial Day weekend. Racing will also air live on FloRacing.TV for those who can't make it to the track.
Saturday's Granite State Derby racing program is headlined by the NASCAR Whelen Modified Tour, with features for the NHSTRA Late Models, Pro Stocks and 350 Supermodifieds and special appearances by the New England Dwarf Car Series, New England Pro 4 Modifieds and NEMA Lites. Grandstands open at noon with qualifying to begin at 2:30pm. General admission seating is $45 for adults, and children 12 and under are free. JDV Experience All-Access tickets are $99 each and include reserved seating.
For more information on JDV Productions, visit JDVProductions.com and follow on social media for the latest updates throughout the season, including updates from the track on race day with feature winner posts.