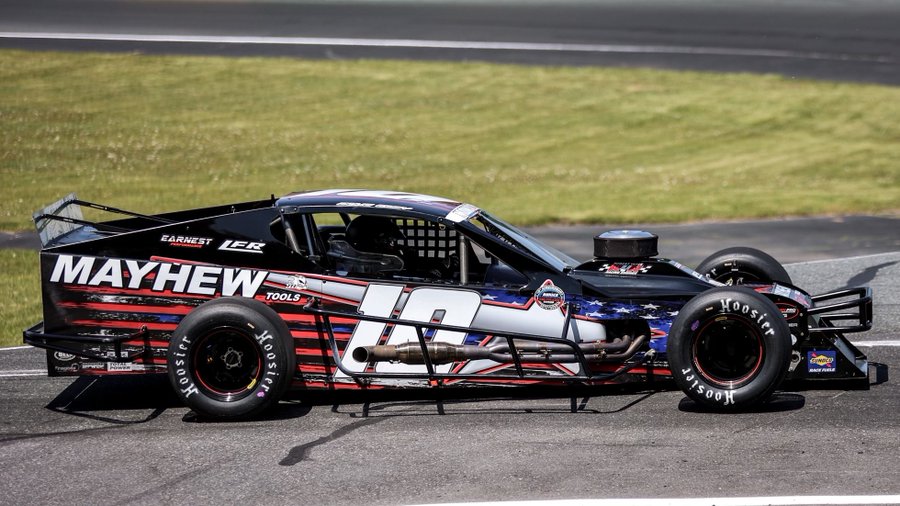 Mayhew Tools Driver Also Finishes Sixth at Lee USA Speedway on Memorial Day Weekend
Race Recap by Souza Media
BARRE, Vt. – Doug Coby's first trip to Thunder Road International Speedbowl ended with a finish on the podium on Sunday afternoon. Coby wheeled the Mayhew Tools No. 10 to a strong second-place run after leading laps in the season opener for the Monaco Modified Tri-Track Series.
Coby finished second in his qualifying heat race and lined up third for the main event. He took the lead on lap eight and led the field until lap 35, when eventual race winner Ronnie Williams made the move around. Coby remained inside the top-three positions for the duration of the race, losing second briefly but regaining it just one lap later.
The Thunder Road appearance was the first of the season for Coby's own No. 10 and was the second of two events for the Milford, Connecticut native on Memorial Day weekend.
"A challenge for me because I had never seen the place and neither had John McKenna (crew chief), so we didn't know which way to go and this car had never been on a quarter-mile track before so we didn't have a notebook," Coby said. "To have that going on against a bunch of people that had raced there once before… We had a good car all day and came away with a good finish."
Saturday, Coby raced in round five of the NASCAR Whelen Modified Tour season in the Granite State Derby at Lee USA Speedway for 175 laps. Driving the Tommy Baldwin Racing, Mayhew Tools No. 7NY, Coby finished sixth after qualifying on the Mayhew Tools pole. With a slipping clutch over the final half of the race, Coby fell to the bottom of the top-10 and worked his way back up in the final laps to score a sixth-place finish.
Doug Coby and the team will be off until Saturday, June 10, when he returns to the NASCAR Whelen Modified Tour with Tommy Baldwin Racing at Seekonk Speedway.
For more information on Doug Coby, visit DougCobyRacing.com and follow his page on Facebook for the latest news and updates, including from the track on both race days.