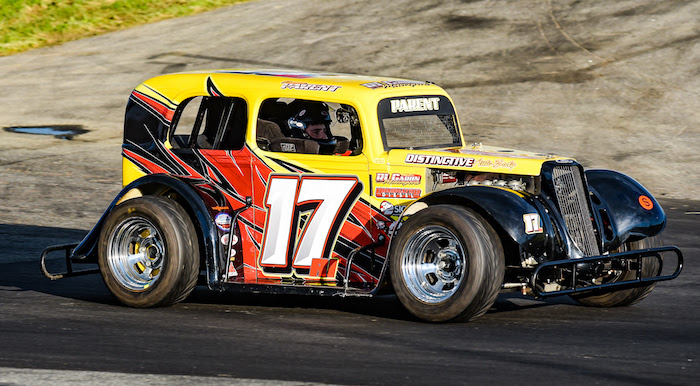 Attleboro, Massachusetts (February 5, 2019) — One of the rising stars of Legend Car racing in the Northeast has added his name to the list of contenders for the inaugural season of the Bullring Bash Quarter Mile Challenge. Westboro, MA's Reagan Parent has filed his entry and plans to compete in the trio of all-star events that are expected to feature many other top talents of Legend Car competition.
Parent, the son of former Thompson Speedway Late Model Champion and American-Canadian Tour winner Ray Parent, was a top contender in Seekonk Speedway's Fast Friday INEX Legends series this past season. The young standout finished fifth in Seekonk Legend Car points in 2018 with seven top-5 finishes. As it turned out, the Bullring Bash schedule aligned perfectly with his overall plans for the 2019 season.
 
"This year, I didn't plan on running any full-time series or anything like that. We just felt like traveling around to different tracks and trying different things," Parent said. "These events turned out to be the perfect thing for that. It's three races, and it goes to two different tracks – both of which my dad used to race on with the American-Canadian Tour, which is kind of cool. I figured I would want to try and run different tracks like that."
 
The Bullring Bash events will be contested at North Woodstock, NH's White Mountain Motorsports Park and Barre, VT's Thunder Road Speedbowl, neither of which Parent has previously raced at. However, both tracks are ¼-mile banked ovals like Seekonk, which will hopefully help with learning the speedways in time for qualifying.
 
"They're kind of the same, but they're also different," Parent said. "When you go to every track, there are different braking points and whatnot. But they're both small, banked tracks. Seekonk's not as banked as Thunder Road or White Mountain, but they're kind of similar, and they're going to be pretty good racy tracks. Everyone's going to be pretty fast, and it'll be good competition."
 
Despite his recent success at Seekonk, Parent is keeping his goals realistic as he enters the Bullring Bash, knowing he will be going against some tough competitors. Racers such as U.S. Legend Car Semi-Pro National Champion Noah Korner and multi-track winner Kevin Nowak have already officially entered all three events. Many other teams known to Legend Car fans have expressed interest in the three $1,500-to-win events.
 
"There's going to be some big names and some heavy hitters there, for sure," Parent remarked. "The Korner's are going, I know Nowak's coming from New York, and hopefully some people from further South are going to come up. As long as we're in the show, hopefully we can run top-10 or top-5. A win would be great, but as long as we're in, we're good. It's a long way to travel not to even make it with how many cars it looks like we're going to be getting. We're shooting to try and get a top-10 – that would be perfect."
 
The Bullring Bash Quarter Mile Challenge will have further announcements regarding registered drivers, sponsors, event officials, and much more in the coming weeks. To keep up with the Bullring Bash, teams and fans can visit http://www.bullringbash.com. Fans can also stay connected on Facebook, Twitter, and Instagram at @BullringBashQMC.