Therrien Among Racers Looking Forward to ACT Opener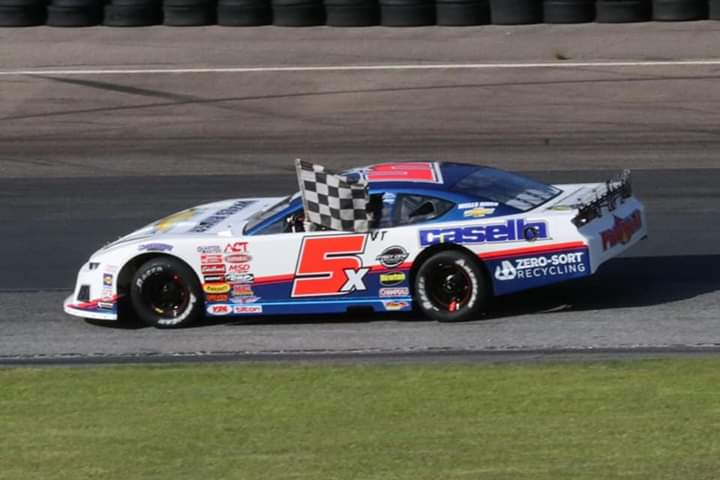 Waterbury, VT – The American-Canadian Tour (ACT) springs into its 2020 racing season this Saturday, June 13 with the 45th Spring Green 120 at N. Woodstock, NH's White Mountain Motorsports Park (WMMP). Nearly eight months after the 2019 season finale, teams and officials are more than ready to hit the track in the event presented by presented by C&S NAPA Auto Parts of Littleton/Whitefield and Sanel NAPA.
Top racers from throughout the Northeast are expected to roll through the gates for the pay-per-view-only event that can be seen worldwide on Northeast Sports Network (NSN). While all will be looking for a good run on Saturday, others have bigger goals in mind as they prepare for what may lie ahead in the season-long ACT campaign.
One of the biggest names to watch on Saturday will be Hinesburg, VT's Bobby Therrien. The defending Vermont Milk Bowl winner and former Thunder Road Late Model Champion has entered for the full ACT Late Model Tour season with his FastOne Motorsports team. Therrien was one of several full-season entrants who ventured to White Mountain one weekend ago for their season opener, giving him a taste of action to prepare for the season ahead.
"I'm feeling really good," Therrien said. "Being able to get over to White Mountain last weekend was a little bit later than we wanted to first get to a race track this year, but it felt good. We showed up with a brand-new Port City car, which was really good out of the box. And getting back for a shorter (75-lap) race was a good way to ease back into the summer. It gave us a good test to go back this weekend for the first race of the ACT Tour."
The event also introduced Therrien and others to a different way of going racing. This weekend's event will be held without fans at the track to comply with state health and safety guidelines in effect through the weekend. While the measure is short-term with new guidelines going into effect on Monday, it has meant a different atmosphere for teams in the meantime.
"It's weird, because the fans always give off a vibe," Therrien noted. "You know they're there. As a racer, you always end up in the stands at some point throughout the day, even if it's just to use the bathroom or run over to the concession stands. Walking through that area (last weekend), it was strange to not have a lot of people. The first time you roll onto the track, you really notice the stands are empty. Once you get going, your focus is more on what's in front of you and what the car's doing, and it's not really about the fans. But, when you first roll onto the track for the feature, you're so used to driver intros and stuff like that. You get accustomed to going through the process of everything that leads up to the green flag, and miss that part of it is different, for sure."
Therrien is just one of many big names who have committed to Saturday's season opener. ACT champions Rich Dubeau and Joey Polewarczyk Jr. are in for the event as are multi-time ACT winner Jimmy Hebert and defending Rookie of the Year Ryan Kuhn. Other series regulars such as Dylan Payea, Christopher Pelkey, and Bryan Kruczek are getting their point-counting season underway. Pro All Stars Series Champion D.J. Shaw and Modified veteran Woody Pitkat were at last weekend's White Mountain Late Model opener and are set to run it back in the ACT ranks.
They'll take on local legends like Quinny Welch, Oren Remick, Andy Hill, and Stacy Cahoon that are always eager to defend their home turf. Other drivers from throughout the region such as Marcel J. Gravel, John Donahue, Mike Benevides, Mark Jenison, and Jason Larivee Jr. are planning to run the event and satisfy a need for speed that has grown with each passing week.
Beyond this weekend, the full picture for the 2020 ACT season is still emerging. Several events were previously postponed or cancelled due to the worldwide COVID-19 outbreak. While tracks in New Hampshire can allow limited fan attendance beginning next week, most others in the region are still waiting for the green light. While ACT is working on a revised schedule for the season, teams will have to be on the alert as the situation evolves and events fall into place.
"Preparation-wise, it's a matter of always having the cars ready," Therrien said. "Things could end up being spur-of-the-moment. With the way things are changing right now, you never know when you might hear, 'hey, we're going to open to fans by the end of the week and have a race.' So it's about always being ready. It helps to be in the race shop working there and having cars that are ready to go versus looking at a car that's partially finished and not knowing when it's ever going to see a track."
The ACT Late Model Tour opens its 2020 season this Saturday, June 13 at 5:00pm with the 45th Spring Green at N. Woodstock, NH's White Mountain Motorsports Park. The 120-lap showdown is joined by the Wells River Chevrolet Flying Tigers, Woodsville Guaranty Savings Bank Strictly Stock Mini's, and GoMotorsportsShop.com NELCAR Legends Tour in an event presented by C&S NAPA Auto Parts of Littleton/Whitefield and Sanel NAPA.
All qualifying and feature action will be broadcast live for $20 on the Northeast Sports Network. Fans can sign up for the pay-per-view at www.NSNsports.net. No in-person fan attendance is permitted due to state health and safety guidelines in place through the weekend.