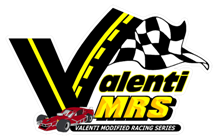 Valenti Modified Racing Series Set For Lee's Oktoberfest
Canaan, NH. – The Valenti Modified Racing Series, dormant since Labor Day weekend, returns to action this holiday weekend when Lee USA Speedway, Lee, NH, welcomes the series to its 34th annual 'Oktoberfest' of racing event. The open wheel modified tour will be making its 14th appearance at the traditional season ending program for the New Hampshire Speedway. The series will compete in a 75-lap feature race.
The 75-lap run is a break from what had become the norm at Lee. Twin 50-lap features were tried three years ago and proved to be successful. Both fans and competitors liked the concept. The thought of a 75-lap race was tried at Beech Ridge Motor Speedway in Maine in August. That format met with approval and was suggested for the Lee race given the amount of races on the schedule at the annual October event.

A list of series drivers, some with long time experience at Lee, some with a great amount of success, and pair of newcomers to victory lane at Lee earlier this season, are entered in the two day event.
Current point leader Anthony Nocella, of Woburn, MA, a four-time winner this season, enjoys an 84-point lead over second place point man Donnie Lashua, of Canaan, NH, going into the 11th race of a 12-race schedule. The season concludes next weekend in Thompson, CT.
Another highly successful driver, a series win total of 19 trips to the winner's circle in his scrapbook, is looking for his fifth career win at Lee. Les Hinckley III, a long-time supporter of series events at Lee, will make the trip from Windsor Locks. CT.
Two drivers, who wheeled to their first career wins this year, have notified the series they plan to spend the Christopher Columbus holiday weekend at Lee.
Mike Douglas Jr and Troy Talman, both tasted victory lane. Douglas, of Auburn, NH, notched his first on Memorial Day weekend. Talman, of Oxford, MA, scored a 50-lap win in July, his first in a tour-type modified.
42-points separate Jeff Gallup, of Feeding Hills, MA, and 15-year old charger Sammy Rameau, of Westminster, MA. for top Rookie honors heading into Lee. 336-294
Gallup and Mike Willis Jr, Grantham, NH, are battling for 3rd in the standings with only 1-point separating the two drivers. Matt Mead, of Richmond, NH, and Colbey Fournier, Berkley, MA, are separated by four points for fourth with Rameau only 6-points behind Fournier.
Additional entries expected include Rob Richardi Jr, veteran George Sherman, former Lee winner, Tony Ricci, Jimmy Zacharias, Dylan Rock, and newcomer Ryan Doucette.
Qualifying events start at 2:00 PM on Saturday afternoon, with feature races slated for 12 noon on Sunday. Lee USA Speedway is located on Route 125, Lee, NH.