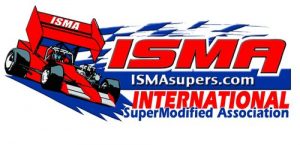 Mike Ordway, Jr and Clyde Booth Teaming Up For 2018 ISMA Season
Matthew Wiernasz
WINCHESTER, NH- Mike Ordway, Jr and Clyde Booth will team up for the 2018 ISMA season when they kickoff with CARQUEST Genden Auto Parts 75 presented by T-Bird Mini Parts on Saturday, May 19. The plan is to run the full schedule in 2018.
" I believe the main challenge will be learning which grooves these types of cars like. Along with how everyone else is going to learn the racetrack. These will come with the opening day challenges of any year with new racecars, redesigned racecars, and people just trying to get the bugs worked out on opening day in general." Ordway, Jr Said

" Well, I think its great. The main thing is its an added venue to our series and I think the area whether it would be New Hampshire or Connecticut. They really understand the Supermodifieds. I just think it's going to be good for the crowd and certainly good for us." Booth Said
Booth believes when fans come to Monadnock on Saturday, May 19 that they will see an exciting race when you see all the Supermodifieds out on the track with the wing on it.
Booth believes the owner/driver relationship between him and Ordway, Jr and the crew is good. Mike Ordway, Sr drove for Booth for many years that started back in 1987. Ordway, Jr started driving for Booth back in 2016 and won a race for him in his first year with the team. Last year the season was short when they had a bad wreck at the New London-Waterford Speedbowl and took them out for the rest of the season.
Mike Ordway, Sr is still apart of the team as he will work on the racecar.
Ordway, Jr does have track time at the New Hampshire quarter-mile oval as he raced in the modifieds a while ago. He did spend a lot of time watching the modified division as Monadnock is one of his favorite tracks to attend to as a spectator.
Bentley's Saloon will be sponsoring the fastest qualifier in where they will receive $1,000. It is possible that the track record will be broken.
" I think its great. These racecars are known to be some of the fastest short track cars in the world. I'm excited to that we are going to be able to display the speed to the new fans in single-car time trials. The $1,000 will make it a little more interesting. I know a lot of guys would like to be able to say they are a track record holder also so so we will just have to wait and see how quick we can get them going." Ordway, Jr Said
"It's really really neat for the track to do that and I think a lot of the time trials is you want to be able to say you set fast time so the fact that there is really icing on the cake with a $1,000 it's really good. I think it gives some drivers some incentives than others. Now as an owner, I like the $1,000 dollars because I am paying the bills." Booth Said
Shea Concrete will sponsor the halfway bonus where the halfway leader will get $1,000.
" Even though its a short race, these cars are tough on tires. Whatever we time trial with and race the heat on, we have to run those tires the whole day. We can't put new tires on after time trials, new tires on after the heat or anything like that. So therefore when you get in the race, if you starting 15th or back in that area somewhere. You have to save your stuff and you can't abuse your tires and that so its really is interesting for the halfway part of the race because some guys
really saved their car and wait until the end and others aren't." Booth Said
" I think the halfway leader bonus is Great. ISMA has always had some great supporters and they continue to show support to the series by adding things like this. An extra $1000 can really help out a team on a race weekend. so it should add some incentive to the drivers that may be just riding waiting for a little later in the race to get to the front a little quicker and maybe have a shot at some extra money. Being ISMA's first time at Monadnock, the bonus money for the track record, and now the halfway leader bonus I think it just adds to the anticipation of what this show is going to be! " Ordway, Jr Said
A lot of teams will have their eyes on Jon McKennedy as he could be the man to beat at Monadnock.
" Jon's a great friend of mine and I definitely think he is going to be the guy to beat going into the weekend. As I said, I've had a few laps there and have been there many times. I have been watching a lot of videos of the modifieds there over the winter as well. Russ Hersey is also a good friend of mine so I may if I can get some help from him as well. Other than that we will just play it like any other race on the schedule, unload and see what we have, and adjust accordingly. " Ordway, Jr Said
Ordway, Jr believes there will be a lot of passing on the New Hampshire quarter-mile oval as he and Jon McKennedy talked about it.
" These cars are very aero-sensitive now with all the wings at the larger more high-speed tracks, however, I think monadnock will have the best of both. It will be very fast for the size of the track however it should be slow enough to take a lot of the aero out of the equation. Hoosier tire has always provided us with great tires and they have been working with ISMA, even more, the last year or so and have come out with a new tire for this year which I think will just add to the passing and great racing we should see there." Ordway, Jr Said
Ordway, Jr knows its very important to get a good finish at a new venue where the series has never been can carry momentum for the rest of the season.
" No matter what the finish, I think we all need to thank the management and staff at Monadnock for giving us the opportunity to come there. As I said growing up in New Hampshire and now living in Maine, Monadnock has always been one of my favorite places to attend races, As hard as short track racing is now for team owners as well as promoters for them to give us the chance to come there and showcase what our series can provide. I think its a great opportunity for all." Ordway, Jr said
The Monadnock Speedway NASCAR Whelen All American Series divisions will be apart of the program beginning at 6:00 p.m. Tickets for reserved seating will be $25 in advance and $30 at the gate. Tickets for general admission for adults will be $20 in advance and $25 at the gate. Seniors will be $15 and Kids 12 and under will be $5 at the gate. The rain date will be on Sunday, May 20 at 2:00 p.m.
Monadnock Speedway is located at 840 Keene Road In Winchester, NH. Please visit Monadnockspeedway.com.